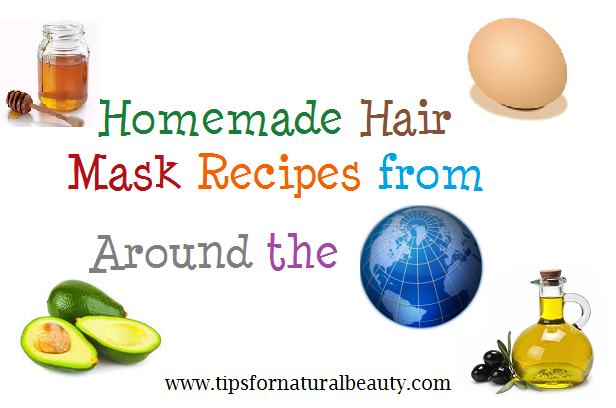 I have recently joined a new social beauty community called Bellashoot. A Social beauty portal where all those interested in beauty can connect, share , learn and teach each others beauty tips and get to know the latest developments in the world of beauty and makeup.
One of Bellashoot members asked me to write a post about homemade hair mask recipes, and here I am !  bellakayla I hope you like it!
One of the most factors for having healthy hair is having a healthy hair routine. Bad hair routine may cause problems to your hair. So let us start by talking about healthy hair routine.
Healthy hair routine.
1. How often should you wash your hair?
This depends mainly on your hair type and the surrounding environment. If you have normal to dry hair, you may wash your hair once or twice a week. If you have oily hair, you may need to wash it more frequently. In spring here in the Middle East, when it is windy, the air becomes full of dust and pollution particles, which will accumulate on hair, and makes it more necessary to wash hair more often.
2. What type of shampoo should I use?

I found some useful advice for you at Go Ask Alice regarding the type of shampoo you should use:
Change you shampoo brand every few months.
Eat healthy food, especially raw fruits and vegetables. Your hair is a part of your body; you need to supply it with all the nutrition it needs to keep it healthy and shiny.
You can add highlight to your light hair by using chamomile shampoo, while henna shampoo add reddish undertones to dark hair.
Avoid hot showers since hot water will make your hair dry.
3. The best technique for brushing your hair:
Start by brushing the ends to remove tangles and then take the long stokes from the roots of the hair to the ends. This will help spreading natural hair oil and thus prevent breakage.
Following those tips will definitely improve your hair quality and give you the shiny healthy looking hair you are looking for. Bu I like to add some natural homemade hair mask recipes, which will add more value to your hair regime.
Homemade hair mask recipes
Indian henna for coloring your hair.
I have been regularly using red henna for almost 12 years now! I use it for coloring my hair, but there are several other benefits for using it. Henna has a cooling effect, which is why it had been used long time ago for curing fever. It is the safest coloring factor for since it is chemicals-free. It leaves your hair healthy, and shiny.
To apply henna, watch this video for details:
Hair mask recipe for smooth hair.
Colombian women useAvocado to smooth their hair by combining two eggs whites (which is known for being protein-rich) with half of a mashed-up avocado, leave it on for 15 minutes then rinse. Egg is a well-known natural factor for smoothing damaged hair to restoring strength and shine to your hair. While avocado is the ultimate nourisher since it has a high concentration of vitamin E.
A South African hair mask recipe for soft hair.
Honey is well know humectant factor that grabs onto and holds water. You can use it for dry dull hair to restore its shiny looking. Mix one egg yolk with a tablespoon of honey and a tablespoon of olive oil . Leave the mixture on for 30 minutes then wash it thoroughly.
Mediterranean hair mask recipe for conditioning your hair.
All you need is a small cup of olive oil, virgin olive oil is preferred, rub it in the ends and the mid length of your hair, leave it on for two hours then shampoo as usual. You may add honey as well for better results. Note that if your scalp is oily by nature it is not necessary to apply olive oil to it, where as dry scalp may benefit from applying a light oil to your fingers and massaging the scalp.
Hair mask recipe for strong hair
Almond oil is usually used in hair products for treating dry and damaged hair, use warm almond oil, spread it on your hair, leaves it on for 30 minutes then shampoo your hair as normal.
Hair mask recipe for sun-damaged hair
Exposing to sun for a long time may affect your hair just like it affects your skin. Exposing your hair for the sun-rays for a long time will affect the keratin protein bonds available in your hair strands. The following hair mask helps replenish the keratin protein bonds, here is it:
Mix (½ cup honey, 1-2 tbsp olive oil and 1-2 tbsp of egg yolk) apply to your hair and leave it on for 20 minutes, then rinse with warm water.
Recommended reading : How Does Green Tea Help Control Hair Loss?
These are only few of homemade hair masks that are known around the world. Do you know another hair mask recipe? Would like to share it with us? Share your recipes in the comments!